Play Rummy Online During Diwali & Win from Rs.50 Lakh
(Last Updated On: April 25, 2023)
An Amazing Time to Play Rummy Online!
It's that time of the year again. The time of diyas, candles and bright lights! This Diwali is meant to be Grand.
Classic Rummy brings you the revamped Diwali Season this 2020. Watch out for dhamakedaar Rummy Tournaments.
Win from 50 Lakh at the 'Diwali Mela – Pataka of the Year' at Classic Rummy. You will experience an action-packed Diwali, loaded with exciting Diwali rummy offers!
Join Cash Bomb Tourneys, Diwali Dailies, Diwali Dhamaka Tourneys to be part of this once in a year magical season.
The season of lights begins on 1st November to 15th November with a Big Bang.
Make the most of this season by playing as much as you can and having loads of fun while you are at it. All players are welcome to the Diwali Mela!

Indian Rummy Diwali Offers:
Diwali is a time of sparkling joy. It's a special kind of happiness that we feel during Diwali. It's magical.
Just like this beautiful festival of lights, we want to bring you a magical Diwali experience at Classic Rummy with our very own Diwali Mela – Pataka of the Year.
Diwali Offers of 2020 at Classic Rummy:
Here are testimonials from the last year diwali promotions:
Ankush Dehane: Oneplus 7T Winner
"I have recently started playing online rummy games with ClassicRummy mobile app and won oneplus 7T during the grand prize draw. Classic Rummy is the best site that offers proper promotions and amazing game support."
Nitin Pawar: Consolation Prize
"The Classic Rummy site is beautiful. I love it because it is far better than other rummy sites in terms of looks, gaming and features."
Play Rummy Online at Classic Rummy:
You know the names of the Diwali rummy offers at Classic Rummy. Ready to know the amount of rewards you can win with these offers? There is a lot to be won from this year's Diwali Mela.
Read about the offers in detail to understand how to win your share from 50 Lakh! Every offer is unique and rewards you in their own unique ways. Benefit from these offers at Classic Rummy and win big!
Also Read: Sankranti Festive Offer: Win Prizes Worth Rs. 8.8 Lakh!
Offer 1: Double Dhamaka Offer
This is the Gem of the Diwali Mela. The Double Dhamaka Offer is like a pataka that bursts twice. Hence, twice the happiness.
Experience this offer at Classic Rummy and win amazing rewards this Diwali season.
You unlock 10% Instant Cash upto Rs.500 and a Free Ticket for the Diwali Tourney.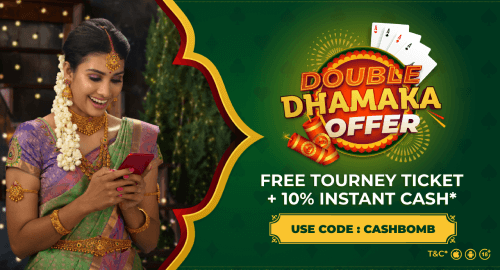 How to redeem the Double Dhamaka Offer?
Login to Classic Rummy.
Registrations open from 1st to 15th November.
On deposit of Rs.100, use code: CASHBOMB to redeem the offer.
The offer is limited and expires soon. Register now.
Offer 2: 1000 Wala Leader board
As a Diwali Special, we are giving our players a chance to show off their rummy talent on the 1000 Wala Leader board.
Every player on the leader board will be rewarded with exciting prizes like electronic gadgets, amazon vouchers, etc.
Burst to the top of the 1000 Wala leader board at Classic Rummy and win prizes and rewards worth upto Rs.5 Lakhs!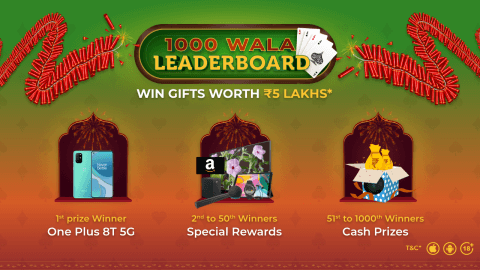 How to Top the leader board?
Login to Classic Rummy.
Play as much as you can to reach the top.
Registrations open from 1st to 15th November.
Limited offer. Register now.
Rewards for leader board Toppers
Position
No.of Players
Reward
1
1
One Plus 8T 5G
2
1
Sony Bravia 40′ Full HD Smart TV
3
1
Samsung Galaxy Tab A
4
1
JBL Cinema Sound Bar
5
1
Noise Fit Fusion Hybrid Smart Watch
6-10
5
All-new Echo Dot (4th Gen)
11-30
20
Sony Wired In-Ear Headphones
31-50
20
Rs.1000 Amazon Voucher
51-250
200
Rs. 500 Cashback
251-500
250
Rs. 300 Cashback
501-1000
500
Rs. 200 Cashback
To top the leader board, all you need to do is play as much as you can, as well as you can. Good Luck!
Offer 3: Cash Bomb Tourney
Diwali is incomplete without some explosion. That's why we bring you the Cash Bomb Tourney.
The Cash Bomb Tourney is a one of a kind limited tourney where you can win from 8 Lakh Daily! Be a Winner among the 2000 players and receive amazing rewards.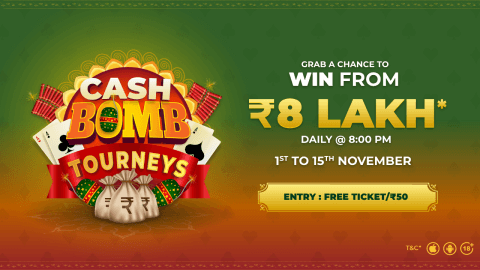 How to Redeem this Promotion?
Login to Classic Rummy.
Use special code: CASHBOMB to redeem on deposit of Rs.100.
Unlock Free Tourney Ticket + Instant Cash upto Rs.500.
You can also enter the tourney for Rs.25.
Offer is limited and expires after 15th November.
Download Rummy Game and Play Rummy Online – Android and iOS
Play Rummy Online in the most seamless way at Classic Rummy. Download the Rummy Game App to join the Diwali Mela! Play from home or with your relatives.
Classic Rummy offers a mobile version that enables users to play anytime and anywhere.
Now a multiplatform gaming application, Classic Rummy brings online rummy gaming to the tip of your fingers.
How to download the Classic Rummy app Apk on your Android device?
Open your mobile browser and go to www.classicrummy.com.
Click on "Download App" to download the Classic Rummy Apk to your device.
Once the download is completed, open the Apk file and click on install. (Make sure 3rd party apps are allowed to install)
How to download the Classic Rummy app on your iOS device?
Open the app store on your iOS device and search for ClassicRummy.
Click on 'GET' to install the app to your iOS device.
Conclusion:
Don't Wait Up, Play Rummy Online Now!
Don't miss this Diwali Season, that's loaded with Mega Rewards worth 50 Lakhs!
Grab all the amazing Diwali Rummy Offers at Classic Rummy. The Diwali Mela is from the 1st to 15th November only.
The time is limited, so hurry up! You just read about the amazing opportunity to win rewards.
Put your online rummy playing skills to use and win big from the Diwali rummy promotions at the Diwali Mela 2020.
Play the Rummy Tournaments in full josh along with thousands of online rummy players that are celebrating Diwali across India. For the grandest of offers and deals during the year, Classic Rummy is the go-to destination for everyone!