Why Are People So Passionate About Rummy in India?
(Last Updated On: February 22, 2023)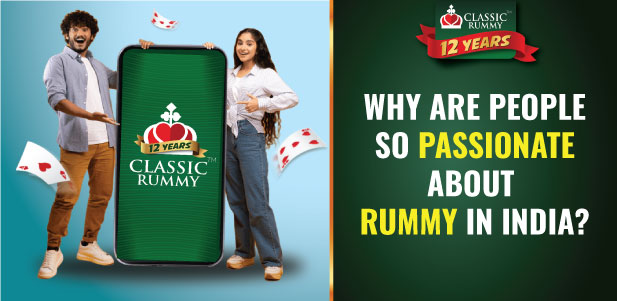 Online gaming has reached remarkable popularity in India. A recent study shows India ranks in the world's top five mobile gaming markets. Because of its immersive nature, Rummy is an entertaining card game.
Rummy has become popular among people of all ages in India and is frequently played as an enjoyable game. The basic 13-Card Rummy has traditionally been the most popular variation of Rummy. Even though there are several variations of traditional Rummy, they all stick to similar rules.
Rummy was once exclusively available offline. People did not have access to online Rummy. As time advanced and technology grew, the online variant of Rummy became a source of amusement for people. They began to like it. It is because online Rummy is more convenient than offline Rummy. People are comfortable while still earning money with online rummy.
Why Is There Much Passion for Rummy in India?
People in India like games that require strategy, practice, and anticipating the opponent's actions. Rummy is exciting because it is a game of strategy and skill rather than luck.
Access to Card Games Online
India is a card-playing country. Various card games are popular at family gatherings during festivals and other events, including Rummy, Poker, and Hearts. While it is a casual game, players take the stakes exceptionally seriously, and friendly competitions are conducted throughout. Today's fast-paced world makes it challenging to schedule get-togethers. Hence the online version allows rummy fans to play the game anywhere, anytime.
Due to Social Gatherings
For starters, social occasions, such as weddings, celebrations, and birthdays, are held daily in India. Playing Rummy is enjoyable and allows you to share your zeal for the game with other rummy enthusiasts. Rummy is considered the most popular card game in India and is often played during social gatherings and celebrations.
[ Also Read About: Popular Rummy Variations Every Player Must Try Once ]
Accessibility to Online Rummy
Due to its accessibility, Rummy has grown in popularity in India. Online Rummy requires less time to join tables and may be played anytime and from any location. It just needs a stable internet connection. Players can compete with other real-life players in India. They can also share their winning tips and strategies.
It Is a Great Stress Buster
It is no secret that everyone experiences negative tension or stress daily. From students who feel overwhelmed by their academic obligations to workers struggling with world policies and a shortage of personal time, everyone wants a break. Rummy is the ideal solution because it is an engaging game that allows you to fine-tune it. You can forget your daily stress and refresh yourself with this skill-based game.
Legality
Rummy is termed a skill-based game by the Supreme Court of India, which makes playing on apps permissible. Players in India play Rummy for real cash, compelling many to online platforms. Rummy is most commonly played on internet platforms during lunch breaks, waiting periods, etc. Rummy is also a virtual travel partner. Because of its legality, there is a diverse range of participants in India.
[ Also Read About: How to Download the Classic Rummy App On Your Mobile Phone? ]
Online Rummy and Its Many Exciting Variations
Compared to physical Rummy, online Rummy offers a variety of fascinating game varieties, which contributes to its popularity. Points Rummy, Pool Rummy, Deals Rummy and several multi-level and multi-player tournaments add to the excitement of the game.
Improves Skills
Another convincing reason why Indians love Rummy is that it improves a player's abilities. There are several advantages to playing Rummy. Playing Indian Rummy boosts memory, brain function, and intellect also. Since numerous calculations are required, playing the Indian Rummy game enhances a player's mathematics ability.
Concentration is essential when playing Rummy since players must always be on top of their games to win. These qualities are necessary for Indians to adapt to their interest and enthusiasm for Rummy!
Rummy is undoubtedly the most popular card game in the Indian subcontinent. As the game's popularity grows, further applications enabling players to earn real money are becoming accessible.
Substantial Cash Prizes and Bonuses
For online players, digital channels increase the vast popularity of Rummy online. These applications offer a massive prize pool of money, up to crores! Multiple rounds of Rummy are played throughout the day, with daily cash prizes, welcome bonuses, free games, deposit cashback, and attractive rewards.
Get exciting rewards and perks from Online Rummy. Most online Rummy Apps arrange tournaments to attract people. Once you earn rewards and prize money, they are easy to withdraw even.
This has increased the excitement of the game and given rise to a new group of online rummy players who take the game seriously and compete for cash prizes. Few have even turned their hobby into a career by becoming skilled rummy players.
Platforms That Offer a Safe and Secure Gaming Environment
Despite several gaming alternatives being accessible online, Rummy is the most popular. Though the medium has changed, the love for the game and its universal appeal has maintained the same.
Certified online rummy Apps such as Classic Rummy and others alleviate any concerns about online transactions and the fairness of play. These platforms/apps have an SSL (Secure Sockets Layer) certificate-A digital certificate that authenticates a website's identity and provides an encrypted connection. With Paytm and UPI, you can complete online transactions in a secure and safe environment. Computerized games eliminate the possibility of foul play due to human error.
So, if you're seeking for the industry's top classical Indian rummy game app, take note. Get ready for a captivating rummy experience by downloading the rummy app for android and iOS devices on your mobile right away.