6 Trends You Need to Know in 2023 About Online Rummy
(Last Updated On: February 15, 2023)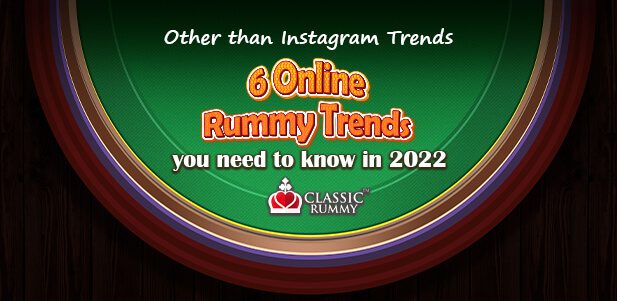 Online Rummy Trends to Follow in 2023
With so much happening all around, one such thing that is constant yet keeps changing is Trends. The word trends are common but what kind of trends is what keeps changing!
When everything has a trend that people follow, how can rummy remain behind? Indian Rummy also has a number of trends ongoing and coming up in the near future.
Here are 6 such trends you can look forward to or actually need to know about online rummy games. Hope this helps 😀
1. Responsible Play-
We can't emphasize enough the fact that Indian rummy is a game of skill, a game that requires a lot of intrapersonal skills as well as hones them to a great extent. We keep saying this in a loop is because the Supreme Court of India has legalised such games that involve skills. Now, online rummy for cash also involves cash but it is still legal to play as it is a skill-based game!
The game also does provide profitable means for players to gain and achieve through the curse of the game. Classic Rummy is one such platform that is safe, secure, responsible, and 100% legal. Check it out and play rummy games on it and win some real-time cash, rewards, and bonuses.

Playing responsibly is one such trend that has been there and will continue to linger around for years and decades to come. Also, it is a mark of a good player and an indicia too. This is exactly why you need to know this trend today and tomorrow as well 😉
2. Chatting with Other Rummy Players-
Many times we lean towards playing a game for the prime reason that we get to interact, meet and engage with new people/ players who share a common interest and match our likes and dislikes. Of course, it is also a stress buster but playing with various players from across the globe does help a great deal, don't you all agree?
All the rummy card game apps are functional through various time zones i.e they are working in full swing round the clock. So, this means you can play at any time you'd like. Now, we all know how much we Indians love playing Indian rummy and the increase in the number of players has also been drastically increasing. This trend has already been a part of the gaming culture for a while now but in 2023 you just might see a rise in it and how!
3. Virtual Reality-
The term VR or Virtual Reality has been doing the rounds for a while now and whether you like it or not it is becoming a part of our lives and gradually this technology will take over just about everything. Yes, this has been under work for the 13 card game- online rummy cash games but very soon this will improve the enhancement of the game and its role in gaming! Once that happens it will surely gain worldwide popularity and recognition so stay tuned for some good stuff in 2023 cause you never know what is going to happen 🙂
4. 3D Card Play-
Indian rummy has been a traditional game for years now as people gather and play the game in person; the cards would be dealt and the picking and discarding of cards would all happen in person. With technological advancements and many years later, here we are, we are playing online and having all of your cards on the screens of your mobiles or computers, you can sit and play from literally anywhere and anytime. Something that was just a mere thought or just an imagination earlier is now possible now and is actively being happening.
5. Multiplayer Game in 2023-
This isn't something new but in 2023 you definitely can expect more clarity and scope while playing multiplayer games in online rummy games. In 2021, there has been an appeal in getting hold of actual real-time cash in a way that is secure, safe, and stable and in the coming year or years you'll notice how it has advanced and improved. 
A Lot of players, especially the ones who play at an expert level, prefer playing multiplayer games and in the coming year, it will happen without any hurdles or issues.
6. Rummy Leaderboards & Tournaments-
Download rummy app and you will see a number of tournaments and leaderboard championships that take place on a regular basis. This has been quite a development in the game of Indian rummy! Now, why do players prefer playing rummy tournaments? Is it mainly because the stakes are high and the level of thrill and excitement is always pretty high. These tournaments do have many rounds in order to win the final prize therefore the length of the game is also longer than the regular games in online rummy games.
Another thing is that these tournaments do have a prize pool that is really high in fact they are worth lakhs or sometimes even crores. Hence, why the leaderboards and tournaments will see a rise in popularity and playing over the coming years and especially in 2023.
Conclusion:
We hope 2023 brings with it a lot of good things for everyone and also makes gaming and Indian rummy even more exciting for you as you now have a bunch of things/ trends to keep a keen lookout for as well. So, put your best foot forward and game and gain like you always have!