Best Money Earning Apps in India 2023: Boost Your Earnings with These Top Apps
(Last Updated On: August 1, 2023)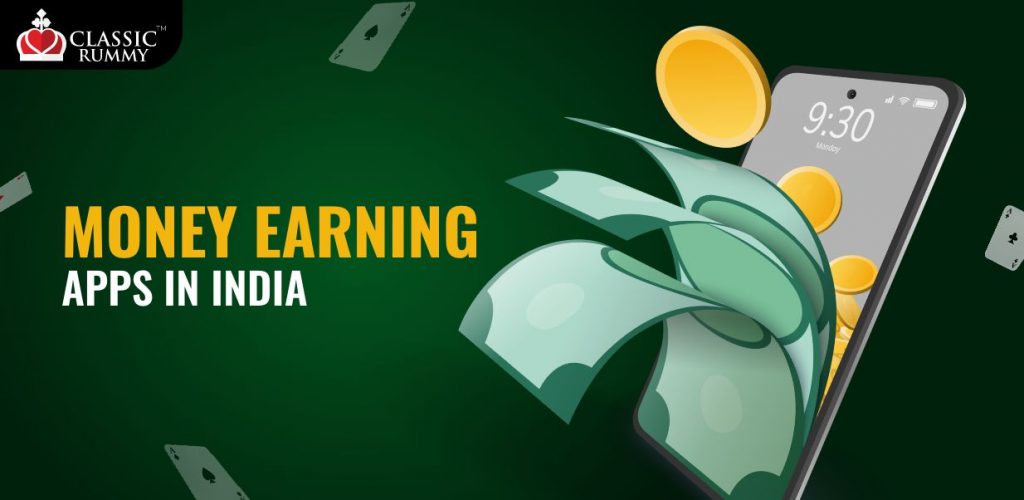 In today's digital age, smartphones have become an indispensable part of our lives. From communication and entertainment to shopping and banking, we rely heavily on our mobile devices. But did you know that your smartphone can also be a source of income? Yes, you read that right! With the advent of money earning apps, individuals in India now have the opportunity to make some extra bucks right from the palm of their hands.
In this comprehensive guide, we will explore the best money earning apps in India that can help you unlock your potential for financial growth. Whether you're a student looking to earn pocket money or a working professional seeking additional income, these apps have got you covered.
So, without further ado, let's dive into the world of money earning apps and discover how you can make the most out of them.
What is a Money Earning App?
A money earning app refers to a mobile application that allows individuals to earn money or rewards by completing various tasks, participating in activities, or engaging in specific actions within the app. These apps typically provide opportunities for users to generate income, either in the form of cash, gift cards, or other incentives.
Money earning apps have gained popularity due to the increasing use of smartphones and the desire for individuals to make extra money conveniently from their mobile devices. These apps offer a wide range of activities for users to earn money, such as completing surveys, watching videos, playing games, referring friends, reselling products, and more.
The tasks or actions required to earn money through these apps are often straightforward and can be completed in a short amount of time. Users are rewarded based on their participation and the completion of specific actions as determined by the app's reward structure.
It's important to note that while money earning apps can provide opportunities for additional income, they should be approached with caution. Users should research and choose reputable apps, read reviews and ratings, and be aware of any potential risks or limitations associated with using these apps. Additionally, it's advisable to use these apps as a supplementary source of income rather than relying on them as a primary means of financial support.
[ Also Read About: Best Rummy App for Real Money in India ]
Different Types of Money Earning Apps
Money earning apps come in various forms and cater to different income-generating opportunities. Here, we will explore some of the most popular types of money earning apps available:
Survey Apps: Voice Your Opinion and Earn
Survey apps are a great way to express your opinions while earning money. Companies are constantly seeking valuable consumer insights, and they are willing to pay for your input. With survey apps, you can participate in market research studies and answer questions on various topics, such as product preferences, shopping habits, and more. Some popular survey apps include Survey Junkie, Swagbucks, and Toluna.
Microtask Apps: Earn Money by Completing Small Tasks
Microtask apps provide you with small tasks that can be completed quickly and easily. These tasks may include data entry, image categorization, content moderation, and more. By completing these microtasks, you can earn money on a per-task basis. Apps like Amazon Mechanical Turk, Clickworker, and Spare5 are popular platforms that offer microtask opportunities.
Cashback Apps: Save and Earn Money on Your Purchases
Cashback apps are a fantastic way to earn money while shopping. These apps allow you to earn a percentage of your purchase amount back as cash or rewards. By linking your credit or debit card to the app, you can earn cashback automatically when you make eligible purchases at partner stores. Popular cashback apps include Rakuten, Ibotta, and Honey.
Gig Economy Apps: Tap into the World of Freelancing
Gig economy apps have revolutionized the way people work and earn money. These apps connect individuals with freelance opportunities in various fields, such as driving, delivery, pet sitting, graphic design, and more. By leveraging your skills and expertise, you can find gigs that match your interests and earn money on your own terms. Platforms like Uber, TaskRabbit, and Fiverr are popular choices for gig economy work.
Investment Apps: Grow Your Wealth through Mobile Investing
Investment apps empower individuals to grow their wealth through mobile investing. These apps provide access to the stock market, allowing users to buy and sell stocks, ETFs, and other investment products. With features like fractional shares and automated investing, investment apps have made investing more accessible to the masses. Popular investment apps include Robinhood, Acorns, and Stash.
How to Earn with Money Earning Apps in India?
India, with its vast population and growing smartphone penetration, has witnessed a significant surge in the popularity of money earning apps. These apps provide individuals with opportunities to earn money from the comfort of their homes or on the go. If you're looking to join the money earning app revolution in India, this article will guide you through the process and share some valuable tips to maximize your earnings.
Best Money Earning Apps List in India (July 2023)
| Name of App | Type | Downloads |
| --- | --- | --- |
| Classic Rummy | Gaming | 100K+ |
| Roz Dhan | News/Referral | 10 Million+ |
| TaskBucks | Task-based | 10 Million+ |
| Google Opinion Rewards | Task-based & Surveys | 50 Million+ |
| Swagbucks | Surveys | 1 Million+ |
| Meesho | Reselling | 100 Million+ |
| Dream11 | Gaming | 50 Million+ |
| CashKaro | Cashback Offers & Promo Codes | 10 Million+ |
Which is the Best Money Earning App in India?
1. Classic Rummy – Best Money Earning App Available in India (2023)
Classic Rummy is one of the popular money earning apps available in India in 2023. It offers a platform for users to play the classic card game of rummy and win real cash prizes. Here are some key features and reasons why Classic Rummy is considered one of the best money earning apps in India:

Rummy Tournaments: Classic Rummy hosts regular rummy tournaments with different entry fees and prize pools. Users can participate in these tournaments and compete against other players to win significant cash rewards. The tournaments add an element of excitement and competition to the gameplay.
Variety of Rummy Games: The app provides various rummy game variants, including Points Rummy, Deals Rummy, and Pool Rummy. Users can choose their preferred game variant and play against real players from across the country. The availability of different game formats ensures that players can enjoy their preferred style of gameplay.
Easy-to-Use Interface: Classic Rummy offers a user-friendly interface that makes it easy for both beginners and experienced players to navigate the app. The intuitive design allows players to quickly access different game options, participate in tournaments, and manage their account settings.
Secure and Reliable: Classic Rummy ensures a secure and reliable gaming experience. The app follows strict security protocols to protect user information and transactions. It also provides a fair gaming environment, where all players have an equal chance of winning. Additionally, the app is regularly updated to fix any bugs and improve the overall user experience.
Flexible Payment Options: Classic Rummy offers multiple payment options for both deposits and withdrawals. Users can choose from various methods such as credit/debit cards, net banking, and popular e-wallets to add funds to their accounts or withdraw their winnings. The flexibility in payment options makes it convenient for users to manage their finances.
Rewards and Loyalty Program: Classic Rummy rewards its loyal players through a comprehensive loyalty program. Users can earn loyalty points for their gameplay and redeem them for cash bonuses, tournament tickets, or other exciting rewards. The loyalty program encourages players to continue playing and offers additional benefits for their loyalty.
It's important to note that while Classic Rummy can be an entertaining way to earn money, it's essential to play responsibly and within your means. Always read and understand the terms and conditions of the app before participating in any games or tournaments.
Other Best Money Earning Apps You Should Try
2. Roz Dhan
Roz Dhan is one of the most popular money earning apps in India, offering users a wide range of ways to earn money. From completing simple tasks like watching videos, playing games, and participating in surveys to referring friends and earning commissions, Roz Dhan provides a user-friendly interface and a variety of earning opportunities.
3. TaskBucks
TaskBucks is another top contender in the Indian money earning app market. With TaskBucks, users can earn money by completing tasks such as downloading and trying new apps, filling out surveys, and referring friends. The app also features daily contests and bonuses, allowing users to boost their earnings even further.
4. Google Opinion Rewards
If you're looking for a reputable money earning app, Google Opinion Rewards is a great choice. Developed by Google, this app allows users to earn money by providing their opinions and feedback on various topics and surveys. The earnings can be redeemed as Google Play credits or transferred to your PayPal account.
5. Swagbucks
Swagbucks is a versatile money earning app that offers multiple ways to earn rewards. Users can earn points, known as "SB," by completing surveys, watching videos, shopping online, and playing games. These points can then be redeemed for gift cards or cash via PayPal.
6. Meesho
Meesho is a unique money earning app that caters to individuals interested in starting their own reselling business. The app provides a platform for users to discover and sell products on various social media platforms. With Meesho, you can earn money by promoting products and earning commissions on successful sales.
7. Dream11
Dream11 is a fantasy sports app where users can create their own virtual teams and participate in various sports leagues. Based on the performance of the players in real-life matches, users can earn cash prizes.
8. CashKaro
CashKaro is a cashback and coupon website that also has a mobile app. You can earn cashback by shopping through the app at various online retailers, including Amazon, Flipkart, and Myntra. The cashback can be transferred to your bank account.
Benefits of Money Earning Apps
Money earning apps have gained immense popularity in recent years due to their accessibility and ease of use. Here are some key benefits of using these apps:
Flexibility: Money earning apps allow you to work at your own pace and convenience. You can choose when and how much time you want to dedicate to earning money.
Extra Income: Whether you want to earn a little extra for your daily expenses or save up for something special, money earning apps can help you achieve your financial goals.
Minimal Investment: Most money earning apps require minimal to no investment. You can start earning money with just a smartphone and an internet connection.
Diverse Earning Opportunities: Money earning apps offer a variety of ways to make money, such as completing surveys, watching videos, playing games, participating in tasks, and even referring friends.
[ Also Read About: TDS Deduction Rule in Real Money Online Games ]
FAQs about Money Earning Apps
Are money earning apps legitimate?
Yes, most money earning apps in India are legitimate. However, it's essential to do thorough research before downloading and using any app. Look for reviews, ratings, and user testimonials to ensure the authenticity and trustworthiness of the app.
How much money can I earn through money earning apps?
The amount of money you can earn through money earning apps depends on various factors, including the app's reward structure, your time investment, and your efforts. While some apps offer quick and small rewards, others provide opportunities for substantial earnings if you dedicate more time and effort.
Can I use multiple money earning apps simultaneously?
Yes, you can use multiple money earning apps simultaneously to maximize your earnings. Just make sure to manage your time effectively and prioritize apps that align with your interests and earning goals.
Is it necessary to provide personal information while using money earning apps?
In most cases, money earning apps require basic personal information, such as your name and email address, to create an account and process payments. However, be cautious while sharing sensitive information and only provide it to trusted and reputable apps.
Are there any age restrictions for using money earning apps?
Yes, many money earning apps have age restrictions, typically requiring users to be at least 18 years old. Make sure to check the app's terms and conditions or user guidelines to ensure compliance with age requirements.
Can I earn a full-time income through money earning apps?
While it's unlikely to earn a full-time income solely through money earning apps, they can provide a valuable source of supplemental income. With strategic planning and utilizing multiple apps, you can boost your earnings and enhance your financial stability.
Can I really earn money using these apps?
Yes, you can earn money using the best money earning apps in India. However, the amount you can earn may vary depending on your dedication and the time you invest in completing tasks.
Are money earning apps safe to use?
Most reputable money earning apps prioritize user safety and ensure secure payment methods. However, it's important to read user reviews and do thorough research before using any app.
How can I withdraw my earnings from these apps?
The withdrawal options vary depending on the app. Some apps offer direct bank transfers, while others provide options like PayPal, gift cards, or mobile recharge.
Are these apps available for both Android and iOS devices?
Yes, the majority of money earning apps are available for both Android and iOS devices. You can easily find them on Google Play Store or the Apple App Store.