Best Rummy App For Real Money in India 2023
(Last Updated On: August 8, 2023)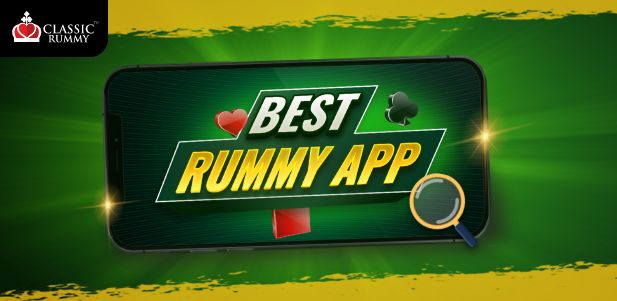 Rummy has always been a popular card game that combines skill, strategy, and a bit of luck. With the rise of mobile gaming, rummy enthusiasts now have the opportunity to play their favorite game anytime, anywhere, and even win real money in the process. In 2023, the options for rummy apps are plentiful, but which one is the best for real money gameplay? In this article, we will explore the top rummy apps for real money, taking into account various factors such as user experience, safety, game variations, and promotions.
Benefits of Playing Rummy for Real Money
Playing rummy for real money offers several advantages that make the game even more exciting and rewarding. Let's take a look at some of these benefits:
Opportunity to win cash prizes: By playing rummy for real money, you have the chance to win attractive cash prizes and rewards. This adds an extra thrill to the game and motivates players to improve their skills.
Enhancing skills and strategic thinking: Rummy is a game that requires strategic thinking, planning, and decision-making. Playing for real money pushes players to develop and refine their skills, making them more proficient in the game.
Convenient and flexible gameplay: Rummy apps for real money provide a convenient and flexible gaming experience. You can play anytime, anywhere, without the need to gather a group of friends or visit a physical casino.
Factors to Consider When Choosing the Best Rummy App for Real Money
When selecting a rummy app for real money, it's important to consider several factors to ensure an optimal gaming experience. Here are some key factors to keep in mind:
User interface and experience: A user-friendly interface and smooth gameplay are essential for an enjoyable experience. Look for an app that offers intuitive controls, visually appealing graphics, and a seamless interface.
Safety and security measures: Since you'll be dealing with real money, it's crucial to choose a rummy app that prioritizes the security of your personal and financial information. Look for apps that utilize encryption technology and have robust security measures in place.
Game variations and formats: Variety is the spice of life, and the same goes for rummy apps. Choose an app that offers a wide range of game variations and formats to keep the gameplay fresh and exciting.
Bonus offers and promotions: A good rummy app will provide attractive bonus offers and promotions to enhance your gaming experience. Look for apps that offer welcome bonuses, referral rewards, and regular promotions to maximize your earnings.
Customer support: Reliable customer support is crucial when it comes to resolving any issues or concerns you may have while playing rummy for real money. Make sure the app offers responsive customer support channels, such as live chat or email.

Best Rummy App List (As of August 2023)
Now, let's explore some of the top rummy apps for real money in 2023. These apps have gained popularity among rummy enthusiasts for their features, user experience, and trustworthiness.
Which is the Best Rummy App in India 2023?
Here's a list of some of the best rummy apps available in India:
Classic Rummy – Best Rummy App for Real Money Rewards
Classic Rummy is an online rummy platform that offers a variety of rummy games. It is a popular choice among rummy enthusiasts in India. The platform provides a user-friendly interface and a seamless gaming experience. Classic Rummy offers different variations of the rummy game, including points rummy, pool rummy, and deals rummy.
Players can participate in cash games or practice games based on their preference. The platform also hosts regular rummy tournaments where players can compete against each other and win cash prizes. Classic Rummy focuses on providing a secure and fair gaming environment, ensuring the safety of player transactions and information.
To get started on Classic Rummy, users can download the app or visit the website, create an account, and explore the various rummy games and features available. The platform offers intuitive gameplay, detailed rules, and helpful customer support to assist players throughout their rummy journey.
Current Rummy Offers on ClassicRummy?
Win up to Rs. 1 Cr* in Monthly Winnings
Win up to Rs. 10,000 Welcome Bonus*
Refer and Earn up to Rs. 15,000* Instant Cash Per Friend.
Rummy Variants Available on Classic Rummy
Pool Rummy is a variation of the popular Indian Rummy card game that can be played with either two or six players. The objective of Pool Rummy is to make your opponents exceed a predetermined point limit, which could be either 101 or 201, depending on the chosen format. Enjoy playing this engaging variant on Classic Rummy, the top rummy app in India. Whether you prefer playing for free or with real money, you can join games with 2-6 players!
Deals Rummy involves playing games with chips over a set number of deals. The goal in Deals Rummy is to form at least two sequences, including one pure sequence, and sets using the 13 cards in your hand. The player who accumulates the most chips by the end of the game emerges as the winner. Experience the thrill of this captivating rummy variant on Classic Rummy, where you can compete for cash prizes.
Points Rummy is a game played by 2-6 players where points are assigned a specific rupee value. Each player is dealt a maximum of 14 cards and must discard one card. The remaining 13 cards are then melded according to the rules of Points Rummy. The first player to validly declare their hand with zero points is declared the winner. Enjoy the exhilaration of playing this dynamic rummy variant on Classic Rummy, one of the most thrilling platforms available.
Why Play Rummy on Classic Rummy?
If you're still wondering why ClassicRummy is the best rummy app available right now, we'll list out a few reasons:
Fair competition: Anticipate engaging with players who possess the same level of skills as you, resulting in challenging, well-matched, and enjoyable rummy games.
High-level security: The ClassicRummy platform ensures the utmost security by offering games certified by RNG and powered by an SSL-secured system.
Exciting offers and bonuses: Utilize the bonus cash in your account to participate in and win more rummy games. Each month, there are prizes worth 1 crore waiting to be claimed.
Effortless withdrawals: Experience seamless and swift withdrawals of your winnings with round-the-clock support.
Minimal waiting time: With multiple rummy variants, an exceptional user experience, and negligible wait times to find an opponent, what more could you ask for?
[ Also Read About: Real Cash Rummy App Download – Android & iOS ]
Other Best Rummy Apps For Cash Rummy Games
Rummy Circle
RummyCircle is one of the leading online rummy platforms in India. It offers a wide range of rummy games, including points rummy, pool rummy, and deals rummy. The app provides a user-friendly interface and hosts regular tournaments with big cash prizes.
Junglee Rummy
Junglee Rummy is a popular online rummy platform that provides an immersive gaming experience. The app offers multiple rummy variants and allows players to compete in cash games and tournaments. It also provides attractive bonuses and promotions.
A23 Rummy
A23 Rummy is one of the oldest and most reputable online rummy platforms in India. It offers a variety of rummy games and tournaments, along with attractive rewards and bonuses.
Rummy Culture
RummyCulture is a trusted online rummy app in India. It offers both free and cash games, along with a variety of rummy variants. The app provides a seamless gaming experience and ensures fair play.
RummyTime
Rummytime stands out as a cash-earning rummy application that offers a smooth visual interface and has gained the trust of 7 million participants. Through this app, players can engage in a range of rummy variations and enjoy the convenience of quick and uncomplicated withdrawal methods. Users are assured of comprehensive digital security, unrestricted and secure withdrawals, and an application verified by RNG (Random Number Generator).
Adda52 Rummy
Adda52 Rummy is a part of the renowned Adda52 gaming platform. It offers a diverse selection of rummy games and tournaments. The app is known for its intuitive interface and secure gameplay environment.
Rummy Passion
Rummy Passion is an online platform dedicated to the game of rummy. It offers a user-friendly interface, exciting gameplay, and a trusted environment for rummy enthusiasts. With Rummy Passion, players can enjoy a wide range of rummy variants, including points rummy, pool rummy, and deals rummy. The platform ensures fair gameplay through RNG certification and provides secure payment options for seamless transactions. Rummy Passion is the perfect destination for those looking to indulge in the thrill of rummy and win real cash prizes.
These apps are popular choices among rummy enthusiasts in India, but it's recommended to visit their respective websites or app stores to check their availability and features before downloading.
KhelPlay Rummy
Khelplay Rummy provides a highly convenient and compatible online platform for playing rummy, ensuring strict adherence to all essential guidelines. Players can relish the experience of playing traditional 13 cards, Indian rummy, or 21 cards Indian rummy on Khelplay Rummy.
Play Rummy
PlayRummy, another top-earning rummy app, has gained popularity due to its fast and seamless gameplay, secure platform, and safe transaction methods. The app offers a variety of 13 card rummy variants, such as points rummy, pool rummy, and deals rummy. Additionally, it provides 21 card rummy options. Players have the opportunity to participate in rummy tournaments and stand a chance to win substantial prizes after engaging in free practice and cash games.
Frequently Asked Questions
Certainly! Here are some frequently asked questions (FAQs) about rummy apps:
What is a rummy app?
A rummy app is a mobile application that allows users to play rummy card games on their smartphones or tablets. These apps provide a platform for players to enjoy rummy games anytime and anywhere, offering features like different game variations, multiplayer options, tournaments, and more.
Are rummy apps legal?
In India, the legality of rummy games varies from state to state. While some states consider rummy to be a game of skill and permit playing it for real money, other states have restrictions or consider it a form of gambling. It is advisable to check the relevant laws and regulations in your state before engaging in real-money rummy games.
How do I download a rummy app?
To download a rummy app, you can visit the respective app store on your mobile device, such as the Google Play Store for Android or the App Store for iOS. Search for the desired rummy app by name, select it from the search results, and click on the "Download" or "Install" button to initiate the download and installation process.
Are rummy apps safe to use?
Most reputed rummy apps prioritize the security and privacy of their users. They implement encryption protocols to protect user data and ensure secure transactions. However, it is essential to download apps from trusted sources, such as official app stores, to minimize the risk of downloading malicious or fraudulent apps.
Can I play rummy for real money on rummy apps?
Yes, many rummy apps offer real-money games where players can participate and win cash prizes. These apps usually require users to register, deposit funds securely, and follow the terms and conditions for participating in cash games or tournaments.
Can I withdraw my winnings from these rummy apps?
Certainly. You can easily withdraw your winnings from these apps through secure and convenient withdrawal methods.
Do these apps have customer support in case of any issues?
Absolutely. All the featured apps provide customer support through various channels, including live chat, email, and phone support.
Can I practice rummy for free on these apps?
Yes, most rummy apps offer practice tables where you can play for free to hone your skills before playing with real money.
Can I play rummy in different languages on these apps?
Yes, these apps often support multiple languages to cater to players from diverse backgrounds.
How can I deposit money into my account on these rummy apps?
These apps offer various deposit options, including debit/credit cards, net banking, and mobile wallets, making it convenient for you to fund your account.
Remember to check the specific features and functionalities of each rummy app as they may vary. It's always a good idea to review the app's user ratings, reviews, and terms of service before downloading and using it.