World's Top Rare and Expensive Card Decks
(Last Updated On: March 20, 2023)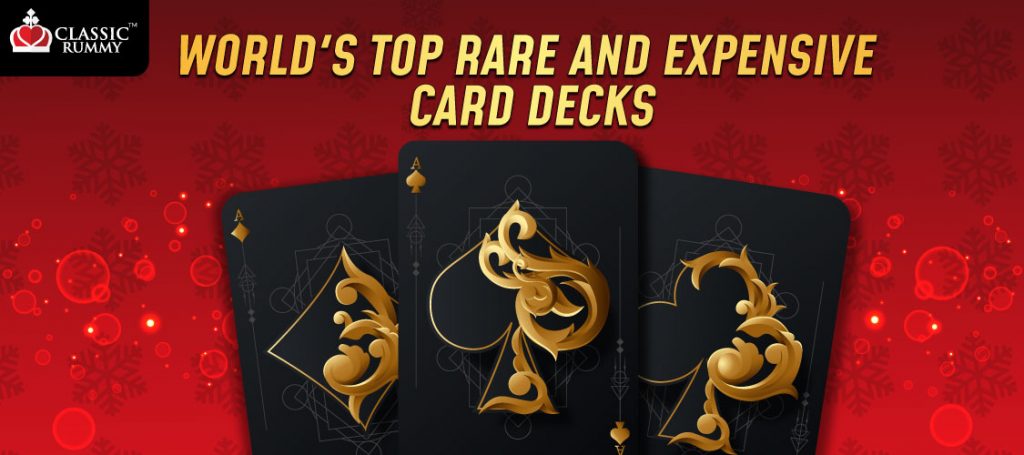 With traditional playing cards being the most widely recognized, did you know that some card decks are actually sold worth thousands of dollars? However, the world of cards has evolved to accommodate a wide variety of interests and preferences, resulting in an impressive array of specialized decks. Online Rummy Games holds great market value today and it is increasing day by day.

While many of these decks are widely available, some are incredibly rare and come with a hefty price tag. In this blog, we'll take a closer look at some of the world's top rare and expensive card decks, highlighting the unique features and the stories behind them. From the Venetian Tarot to the Luxury Deck, these decks are a testament to the artistry and creativity that goes into designing a truly exceptional deck of cards.
The Venetian Tarot – $5,000
The Venetian Tarot is one of the rarest decks in the world, with only five known copies in existence. Created in the 15th century in Venice, Italy, this deck features intricate illustrations and gold leaf accents. Each card is a work of art, and the deck is considered a masterpiece of Renaissance art. The deck was recently sold for $5,000 at an auction.
The Blue Blood Playing Cards – $10,000
The Blue Blood Playing Cards is a limited edition deck created by Shinola, a luxury brand known for its watches and leather goods. These cards are made of premium paper stock and feature a unique design inspired by the art deco movement. Only 1,000 decks were produced, and each one is numbered and signed by the designer. The deck comes in a handcrafted wooden box and was sold for $10,000.
The Gold Venexiana Deck – $9,000
The Gold Venexiana Deck is a true masterpiece of playing card design. Created by Greek artist and designer Lotrek, this limited edition deck is a true work of art. The deck is made of high-quality paper stock, and each card features a stunning gold foil design with intricate details that make it stand out from other playing cards.
The Gold Venexiana Deck is a collector's dream, as only 212 decks were produced, making it one of the rarest and most sought-after playing card sets in the world. To add to its exclusivity, each deck is individually numbered and signed by Lotrek, making it truly one-of-a-kind. The deck is packaged in a handcrafted wooden box, which adds to its luxury appeal. The box is adorned with Lotrek's signature and a metal emblem, making it a beautiful display piece in any collection.
[ Also Read About: Why Playing Cards Are Red and Black in Color ]
The Luxury Deck – $143,000
The Luxury Deck is the most expensive deck of playing cards in the world, and for good reason. Created by Swiss jeweler and watchmaker, Shawish, this deck is made of 17.9 carats of diamonds and 18-karat white gold. Each card is adorned with a diamond and the deck comes in a custom-made black lacquer box. The deck was sold for an astounding $143,000.
The Silver Arrow Playing Cards – $300
The Silver Arrow Playing Cards is a limited edition deck that has captured the hearts of playing card enthusiasts worldwide. Created by the talented designer, Jackson Robinson, this deck features a sleek silver design that exudes elegance and sophistication. The intricate details and unique tuck box make it a collector's dream, and only 1,000 decks were produced, making it a rare gem in the world of playing cards.
Each deck of Silver Arrow Playing Cards is individually numbered and signed by Jackson Robinson, adding a personal touch that makes it a truly unique addition to any collection. This deck has become highly sought-after, as it is known for its exceptional quality and exquisite design. The Silver Arrow Playing Cards have been featured in numerous publications and exhibitions, and they have become a favorite among magicians, cardists, and collectors alike. The deck's popularity has only grown since its release.
The card decks featured in this blog are exceptional examples of the artistry and craftsmanship that goes into creating a unique and high-quality deck of cards. These rare and expensive decks are not only valuable collector's items but also exquisite pieces of art that showcase the skill and creativity of their designers.
Whether you're a playing card enthusiast or simply appreciate fine art, these rare and expensive card decks are sure to impress. Each deck is carefully crafted to showcase intricate details, luxurious materials, and unique designs that make them stand out from other decks. From the Venetian Tarot with its intricate illustrations and historic significance to the Silver Arrow Playing Cards with its sleek silver design and personal touches from its designer, these card decks are truly exceptional.