The Benefits of Playing Rummy On a Mobile App
(Last Updated On: March 23, 2023)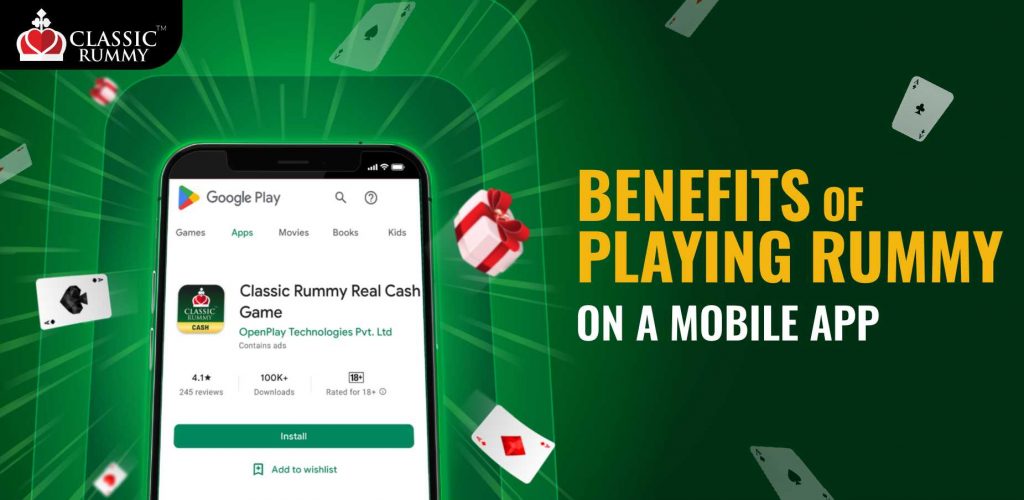 Over the past few years, mobile gaming has gained immense popularity, with online Rummy emerging as one of the most sought-after games on mobile devices. Rummy is a classic game that has been played for ages, but with the advent of technology, it has become more convenient and accessible to play on mobile apps.
Nowadays, playing Rummy on a mobile app has become a popular pastime. More and more people are opting for online platforms to indulge in their favorite games, and Rummy is one such game that is extensively enjoyed on mobile apps.

The online Rummy industry is booming, with platforms like Classic Rummy, Junglee Rummy, and RummyCircle competing for the attention of Rummy enthusiasts. Here are some advantages of playing Rummy on a mobile app:
Top Rummy Benefits in Mobile App
The top benefits of playing rummy are:
Convenience
Gone are the days when playing games required being physically present in a specific location. Mobile apps have revolutionized the way people play games, and Rummy is no exception. Playing Rummy on a mobile app offers unparalleled convenience, making it possible to enjoy the game anytime and anywhere.
With a mobile app, you no longer have to wait to get home to play Rummy on your computer. Whether you are commuting to work or waiting for a friend at a café, you can easily launch the Rummy app on your mobile device and start playing the game. This flexibility allows you to fit the game into your busy schedule, providing a quick and easy way to unwind during breaks or while traveling.
Variety of Games
Playing Rummy on a mobile app provides access to a wide range of game variations that may not be available when playing the game offline. With a mobile app, you can choose from different versions of the game, such as Points Rummy, Pool Rummy, or Deals Rummy. Each of these variations offers a unique gameplay experience, with different rules and strategies.
Additionally, mobile apps offer different table sizes, allowing you to choose the number of players you want to play with. You can choose from 2-player, 3-player, 4-player, 5-player, or 6-player tables, depending on your preference. This variety provides a more immersive and engaging experience, as you get to play against different opponents and try out different strategies.
Enhanced User Experience
Mobile apps are designed to offer a seamless user experience, with easy-to-use interfaces and intuitive controls. The same holds true for Rummy mobile apps, where the game is optimized for mobile devices, ensuring that playing the game is easy and hassle-free.
The game interface on a mobile app is designed to be user-friendly, with large buttons and clear graphics that make it easy to navigate the app. The game controls are intuitive, allowing you to perform actions such as drawing a card, discarding a card, or declaring the game with ease. The game mechanics are also optimized for mobile devices, ensuring that the game runs smoothly, without any lags or delays.
In addition to this, Rummy mobile apps offer various features that make playing the game more enjoyable. For example, some apps provide a tutorial that walks you through the game rules and basic strategies, making it easier for beginners to understand the game. Other apps have a chat feature that allows you to interact with other players and socialize while playing the game.
Safe and Secure Transactions
When playing Rummy on a mobile app, one of the major concerns for players is the safety and security of their financial transactions. However, mobile apps have stringent security protocols in place to ensure the safety of players' financial information.
Mobile apps offer a variety of safe and secure payment options, such as credit/debit cards, net banking, or mobile wallets. These payment options are integrated with the app's secure payment gateway, which ensures that your financial transactions are processed safely and securely.
Moreover, mobile apps use encryption technologies to protect your financial information from cyber threats such as hacking and identity theft. Encryption ensures that the data you share with the app, such as your credit/debit card details, is converted into an unreadable format, making it impossible for cybercriminals to decipher.
[ Also Read About: Benefits of Online Rummy You Did Not Know ]
Practice Mode
One of the significant benefits of playing Rummy on a mobile app is the practice mode that it offers. Most mobile apps have a practice mode feature that allows players to play the game without using real money. This feature is particularly helpful for beginners who are learning the game or players who want to hone their skills before playing with real money.
The practice mode on a mobile app allows players to play the game in a simulated environment without any financial risks. You can play as many practice games as you like, without worrying about losing money. This feature is especially useful for players who are new to the game and need to familiarize themselves with the rules, strategies, and gameplay.
Playing in the practice mode also allows players to try out different strategies and techniques, without worrying about losing real money. You can experiment with different approaches, such as aggressive or defensive gameplay, and learn from your mistakes without incurring any financial losses.
In conclusion, playing Rummy on a mobile app provides a convenient, immersive, and secure gaming experience. With a variety of games and easy-to-use interfaces, mobile apps offer an engaging way to play the game. So, download the Classic Rummy mobile app today and start playing!