10 Fun Filled Diwali Activities & Online Games You Can Play To Jazz Up Your Diwali Party
(Last Updated On: September 23, 2022)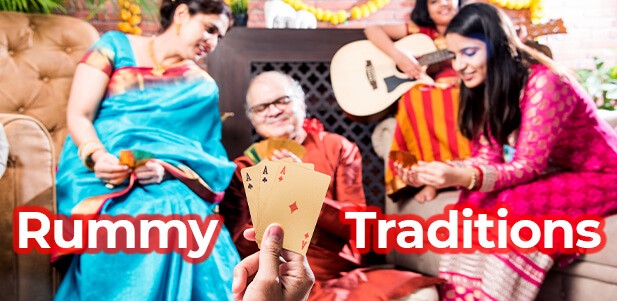 It's that time of year when we go shopping, decide our menu, binge rate on sweets without focusing on those extra calories, shop for clothes and home decor, meet friends and family and of course, play a lot of games.
Diwali is here and the festive spirit has already begun. Of Course, there are many other things we do during these festive days, but the majority focus is on the ones mentioned above.
Another very important aspect of the Diwali Festival is gatherings and game nights. Entertaining people is a lot of fun but can get you worked up as to what and how you should organize your game nights.
Don't worry, we've got you covered. Here are 10 such Diwali party games and activities that are sure to jazz up and add that extra zing to your Diwali Party.
Diwali Party Games & Activities That'll Jazz Up Your Diwali
Mad Libs
Social Humor
Never Have I Ever
Two Truths and a Lie
Tongue Twister Challenge
Freeze Dance
Guess Who
Trivial Pursuits
Candle Making
Rummy
Mad Libs:
We all love stories. Whether it is reading one or hearing one- oops!
This Diwali let's weave our own little story by playing Mad Libs. This is one such game where the result, outcome, and game process are never ever the same.
This is played by people giving you a bunch of random words they'd like, and you have to fill in the blanks using those words.
You'll see how you come up with a story that makes absolutely no sense but will leave you crying with laughter and who just might become a storyteller one day.
Social Humor:
Social bhi, Humor Bhi; We all are social in some or the other way whether it be online or offline and we're all humorous in our own little ways!
That makes this game for all of us not just for the above reason but for the fact that card games or online rummy card games are always a hit among people!
The only difference however is that this card game is surely a fun one! The deck of cards, once opened, will ensure that you face funny, naughty, awkward, and caught the act kind of situations!
Play it this Diwali and leave everyone in splits.
Never Have I Ever:
Never have I ever pretended to like a party while I was actually dead bored?
I Have!
But it's gonna change this time because we've got you these games to add that extra zing and spice to your regular Diwali parties.
Never have I ever been a popular game and is popularly played across all age groups. Say out an instance and people either say they have or they haven't (the question can be anything :p)
How cool is that? You also get to know secrets of people khel khel mai.. sshhhh…
Two Truths and a Lie:
Diwali is a time when all of us get together, chill and spend time together to celebrate the diwali festival while staying in the festive mood.
It's but natural that all the people you'd be meeting or visiting that day are quite well known to you or you have a good equation with them.
We're saying this because this game is one that needs you to know your 'gang' quite well.
Let everybody write down three things about themselves out of which one should be a lie and two things should be something related to doing.
Spice it up by writing fun stories, incidents, or anything that's happened to you.
After which, you jumble up all the cards and pick up random cards and read them out aloud, and try and guess who they could be.
Hey, remember don't mention your name on the chit.
Tongue Twister Challenge:
'Fred Fed Ted Bread, and Ted Fed Fred Bread'
Did you try reading that out as fast as you can? If you didn't then try it now, say it as fast as you can, and repeat it without fumbling. We bet you'd break out into laughter 😀
This is exactly how you can add that fun, humor, laughter, and much more to your Diwali Party.
Note down a bunch of tongue twisters and try saying it out aloud without losing. Another popular tongue twister is Red Lorry, Yellow Lorry. Brings back childhood memories, yes?
Play Diwali games online and have a blast!!!
Also Read: Interesting Facts About Dussehra Festival
Freeze Dance:
Who doesn't like to groove a little to song and dance? Both of which can lighten the mood and make any party or get together more than happening. This is a game that is quite popular among kids but remains the same as we grow up too.
Many of you might have already guessed the game by the title but in case y'all haven't then, remember 'statue'? Yes, you are right this is exactly that but with music. Freeze Dance is one such Diwali party game you could play this Diwali along with your pals.
Put on some music and dance away to its tunes but remember to freeze as soon as the music stops- cause any little movement otherwise can get you out of time.
Guess Who:
Let the game of guessing begin 😉
Instead of guessing random things, pick up a pen and paper to play Guess Who! This is a very simple game, yet a fun-packed one.
We've got an artist hidden within us and this game is sure to get out that inner khoobhi of yours; let the world see how talented you are.
Oh, just FYI, Pictionary is available online as well as offline- this makes it convenient for you to play however you'd prefer too.
If you've got the board game, then all you have to do is start drawing out the phrase/ sentence, etc mentioned on the card while everybody else has to try and guess it out.
Tip- You can incorporate your own little kahawat's, shayari, one liners, PJ's etc to jazz it up a little more!
Trivial Pursuits:
We all have a purist to deal with so why not play one?
Card games are always a good idea to play when it comes to enjoyment and fun. Trivial Pursuits is one such card game you can play on Diwali other than teaching to just have a different experience this time.
This is obviously a trivia game where you'll be required to collect pies by answering questions from different categories present.
Winning a game is always the motive and a plus point too but trust us when we say that in this game, you'd just wanna enjoy rather than win.
Give it a try this festive season!
Candle Making:
Diwali is a festival of lights and everything to do with it- from lightening up your homes and lives to lighting up your mood, prosperity, happiness, gains, and much much more!
Here's one such activity you can do this Diwali or make your kids do it. Candle making can be really interesting and fun as it takes up a lot of your time. So, you get to chill, talk, and exchange fun diwali memories and whatnot.
Get yourselves the candle wax, and different molds to begin with. You can also use glitters/ flowers/ decorative stuff to add extra bling to your own unique candle.
You can decorate your homes with your own handmade candles whilst also showing off your skills and hey! The fun while doing so, how can you forget that?
Rummy:
Last but not least as we wanted to leave the best for the last and end this article on a high note you see 😉
A very famous, catchy, and intriguing card game is the game of Rummy. And what is a Diwali party without a little card game session?
This Diwali instead of using the traditional way and playing with cards in person (which of course is the best) try playing rummy online on Classic Rummy and check out different Diwali rummy tournaments you can play with anybody.
Not gonna explain how the game is played cause c'mon diwali hai toh patte khelna toh jante hi honge!
But, Here's a little fun fact that we're assuming you would wanna know- Classic Rummy is running really cool offers this entire Diwali season that'll get you to win big in real cash and bonus. Woo-hoo!!!
| Name of The Tournament | Play Tournament |
| --- | --- |
| Classic Dhamaka | Play Now |
| Big Festive Offer | Play Now |
| Pataka Week | Play Now |
Conclusion:
These Diwali party games are sure to jazz up your Diwali party this season and leave your loved ones and you with memories to cherish for a lifetime.
Make the most of this festival by binge eating, playing online games, dolling up, and everything else that you'd like.
Do let us know later how these games helped your Diwali party.
CLASSIC RUMMY WISHES YOU A HAPPY & A PROSPEROUS DIWALI. LOVE, LIGHT, AND MORE!!