Classic Rummy February Month Promotions 2018
(Last Updated On: February 10, 2020)
As winter fades away and we enter the hot summer days, Classic Rummy is set to make this transition easier and more fun with its Fantastic Feb deals that offer a total of Rs. 20 lakh cash back prizes!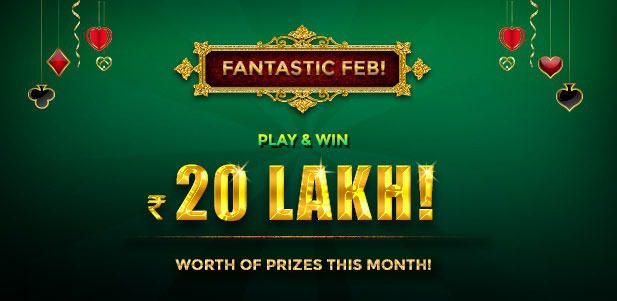 These are sure to give you your fill of rummy fun! Take a look at the offers of the month:
1. Classic Toppers
Play Pool, Deals and Strikes Rummy and be among the top 40 players in each variant to win Rs. 6 Lakh Cash Back prizes this month!
2. Prime Time Offer
Although we've got awesome offers running all through the day, do not miss out the prime time offer that awards a total of Rs. 10 lakh for the top players (between 6 pm and 11:59 pm, daily) of the month.
3. Rummy Nights
Here's a great deal for the nocturnal players. Wager between 10 pm and 10 am daily and the top players will be rewarded Rs. 1 Lakh Cash Back prizes + 20% Extra Bonus on ALL deposits* every week!
Apart from these, the site also throws in surprise and exclusive deals for special or lucky players from time to time. Be sure to play and win a big share of the prizes.
Happy Rummying!