What Kind of a Player Are You – Practice Rummy Player Or Cash Rummy Player
(Last Updated On: April 11, 2022)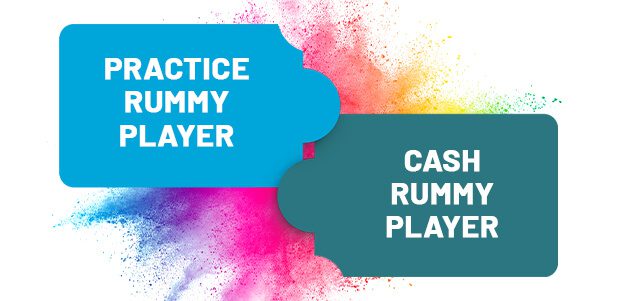 By now we all are aware that rummy is a skill based game but there are people who like or rather enjoy playing it just for the sake of it and then there are some players who are really serious about it.
What kind of player are you? If you don't know as yet or are confused then this article is the one for you.
For all the serious players out there, you guys know the game pretty well and it's safe to say that you know rummy inside out.
But for someone who is just starting off or is a few days old at it won't really know anything about rummy. Everything might seem to be going over the head for the beginners and we get it.
We'd outlined a few traits of both the kinds- the practice rummy player and the cash rummy player for a better understanding. So next time you play rummy online for cash you're pretty much know of tricks even if you're a rookie at it.
What Kind of a Player Are You – Practice Rummy Player or Cash Rummy Player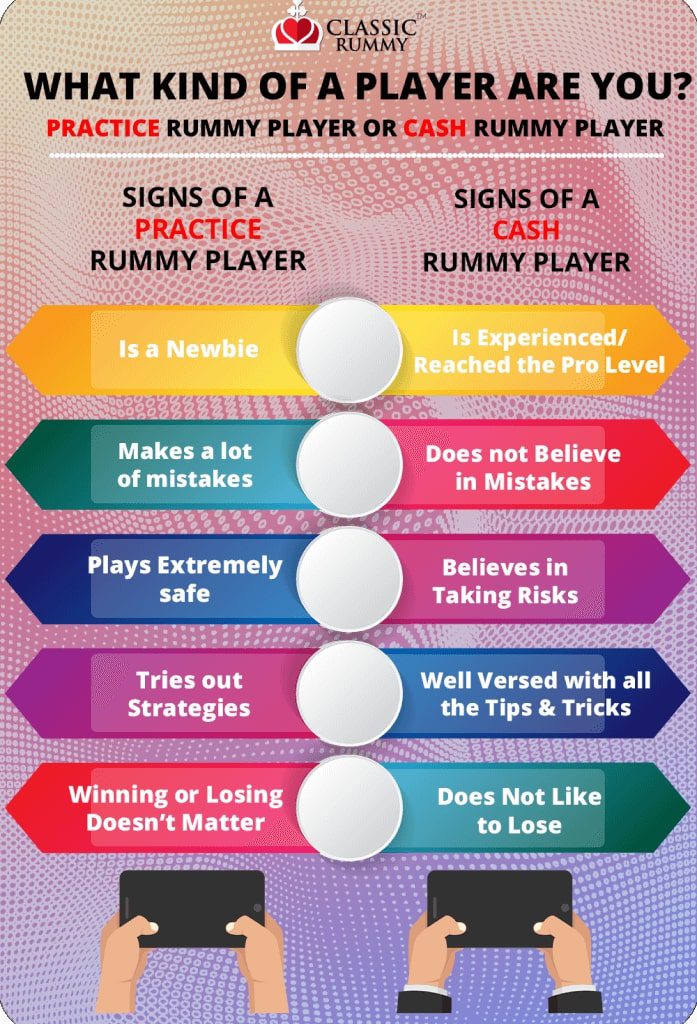 1. Practice Rummy Player
Practice is essential and the key to success because that is what lets you get better at whatever you do. For someone who is just starting out to play a rummy real cash game, it is ideal to be a practice gamer rather than going into its full swing.
There are also a few other aspects that proves to be beneficial –
a. Learning Curve
From mistakes and downfalls, you can and will learn to excel at the game. The learning curve has to be gradual and slow.
Stumbling upon the same mistakes time and again will enable the player to become a professional. This will also help you understand the works, how the game is supposed to be layers and know the tricks of the trait.
b. Safe
The best advice for practice gamers would be to play 'safe' that is to play without any cash. Your only motive should be to get a grip of the game and then jump into playing rummy online for real cash. You see, you don't want to invest and lose your hard earned money as a newbie!
c. Strategy Testing
Rummy is generally a skill based game and does require a lot of strategizing. Practiced gamers have an advantage over here as they get to test these strategies before they can play for real time cash or play as professional players.
So, try out the strategies so that you are aware of the outcomes and how you can go about each of them without getting stuck in between.
2. Cash Rummy Player
You will become a cash rummy player only once you've tried and tested the game to the fullest. When you are extremely confident of what the game is, how it is played and are certain of all the tips and tricks.
When you can define not just your moves but also your opponent's move or thought process is when you move onto becoming a cash rummy player.
a. High Stakes
Rummy online cash game app involves real time money, prizes and bonuses. So, the stakes are pretty high when you play.
You can't be taking chances here as both the wins and losses are equally big and would affect the player. We'd suggest only the experienced players giving this a shot.
b. Serious Gamer
Since this play is for the professional and experienced rummy players only there is a lot of seriousness that goes on. Players are quite serious when it comes to their game because a lot is involved.
c. No Room for Mistakes
When a player decides to play rummy for cash then he cannot be taking any sort of chances here. The idea of trying out new stuff or experimenting is not a good thought. Just do what you know off and are well versed with it as well.
Bottom Line:
Irrespective of what kind of player you are, stay dedicated and you'd get past it. Becoming a pro at anything requires a lot of practice and focus.
Also, all the experienced players out there were once beginners too. This is enough motivation to not give up when you face challenges or failures whether in rummy or in real life 😀